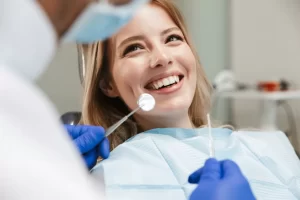 Are you looking for a new Dentist in Tomball Texas? Northpointe Smiles is the best dental office in Tomball, TX, and beyond. We offer a comprehensive variety of services, from general dentistry to cosmetic dentistry and everything in between. Plus, we're conveniently located just down the road from you. 
Meet the Northpointe Smiles Team
We have a team of experienced professionals passionate about providing the best possible care for our patients in Tomball. 
Dr. Neelima Samineni is our lead dentist. She's a graduate of the Henry M. Goldman School of Dental Medicine, Boston University. She strives to provide quality dentistry in a comfortable, caring, unbiased setting. She takes a personal interest in each patient and uses a conservative dentistry approach with minimally invasive options. She enjoys spending time with her family, reading, gardening, and traveling in her free time. 
Our team also includes our hygienists trained to provide excellent care and customer service. They're also experienced in providing education on proper oral hygiene habits.
The Services We Offer in Tomball
Whether you're coming in for a routine cleaning or need more extensive work done, we're here to help. Some of the services we offer include:
We can help you focus on improving the appearance of your teeth and gums. Cosmetic dentistry can involve various procedures, such as teeth whitening, bonding, veneers, and braces. Many people undergo cosmetic dentistry to achieve a brighter, more youthful smile. Others may have crooked or chipped teeth that they would like to correct. Still, others may have gaps between their teeth that they would like to close. Whatever the reason, cosmetic dentistry can provide you with a stunning, bright, white smile.
While cosmetic dentistry results are often awe-inspiring, it is essential to remember that these procedures are not simply for appearance's sake. In many cases, they can also improve oral health. For example, straightening teeth can make them easier to clean and less likely to develop cavities or other problems. As such, cosmetic dentistry can be a great way to improve both the appearance and the health of your teeth and gums.
In addition to cosmetic dentistry, we offer general dentistry services. These are the kinds of procedures necessary for maintaining good oral health. General dentistry can include routine cleanings and exams, fillings, crowns, and bridges. General dentistry is an essential part of keeping your teeth and gums healthy, and we can perform all these treatments in our office right here in Tomball. General dentistry can also help to prevent more severe problems from developing.
We can help you repair or replace damaged teeth. Restorative dentistry can include procedures like dental implants, dentures, and root canals. If you have a tooth that is damaged or missing, restorative dentistry can help restore both the function and the appearance of your smile.
We offer relaxed, compassionate dental care for Tomball kids of all ages. Children's dentistry can include everything from routine cleanings and exams to more specialized procedures. 
We understand that visiting the dentist can be a daunting experience for some children. We take a gentle, child-friendly approach to dental care. We want to make sure that your child feels comfortable and safe while in our care.
Accidents can happen when you least expect them. We offer emergency dental care when you need it the most. If you have a toothache, a cracked tooth, or any other dental emergency, we can help. 
We offer same-day emergency dentistry in Tomball and an after-hours emergency line. We'll do everything we can to get you the care you need when you need it.
Quality Dental Care in Tomball, TX
You deserve to have a beautiful smile that makes you feel confident every time you flash it. You can trust us to provide you with quality dental care to improve your smile and oral health. With our team of experienced dental professionals in Tomball, we can help make your dreams of a perfect smile come true. 
Schedule an appointment today and see what we can do for you.