Get a Straighter Smile (No Metal Required)
Clear aligners allow everyone to straighten their teeth and improve oral health simultaneously. At North Pointe Smiles, we offer a variety of clear aligners, such as ClearCorrect and Invisalign. Both of these treatments provide quick, comfortable, and effective teeth alignment. Dr. Neemila Samineni and our team are excited to help you experience this transformative orthodontic treatment. We're proud to offer high-quality clear aligners in Tomball, TX.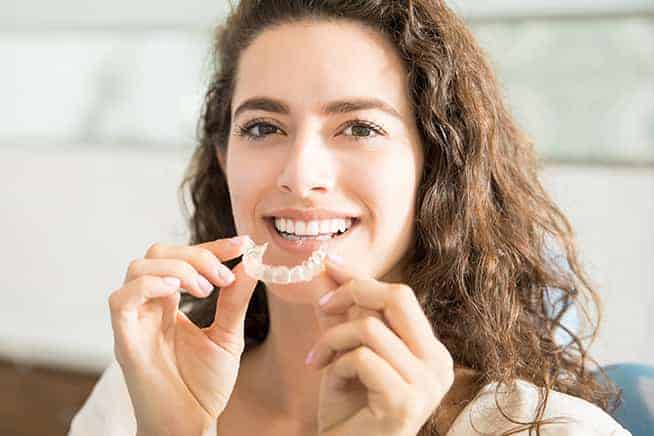 What are Clear Aligners? 
Clear aligners offer a more modern, alternative method to traditional braces. Similar to braces, clear aligners apply a gradual force that straightens your teeth. Aligners are removable, nearly invisible, and require less intensive care. However, clear aligners don't have wires or brackets, which makes them more durable and easier to clean. 
Meet our Clear Aligners:
At Northpointe Smiles, we offer a variety of clear aligners to meet your needs best. Each has its unique strengths, which provide a more personalized, individualized experience: 
ClearCorrect.

ClearCorrect is remarkably similar to Invisalign, with a few key differences. ClearCorrect aligners are slightly thinner, keeping them less noticeable. However, ClearCorrect also covers the gums, which might irritate the mouth more. 

Invisalign.

Invisalign is the world's most trusted name for clear aligners. Invisalign helps you build your ideal smile with grace, ease, and comfort. It allows you to eat the foods you love, fixes overbites, and is very difficult to notice. 
What are the Benefits of Clear Aligners?
Clear aligners come with a wide range of beneficial advantages: 
No Food Restrictions.

You can eat anything you want with clear aligners, unlike braces, which require users to avoid hard, sticky, and chewy foods. Reclaim your peace of mind during mealtime without worrying about damaging your aligners. On the contrary, users remove their aligners during mealtime. This practice keeps your aligners safe and allows you to stay diet-free. 

More Comfortable.

Traditional braces tighten your teeth with wires and braces. These "pressure spots" can be pretty uncomfortable. While clear aligners still apply pressure, they completely hug your teeth in a perfect 3D plastic model. Aligners spread tension more evenly across the mouth. You can also remove them, providing your teeth space and relief as required. 

Fewer Clinic Visits.

Clear aligners need fewer dental checkups than braces. After all, there aren't any wires to tighten. This results in quick, effective, and painless appointments. 

Stealth Aligners.

We build our aligners with a clear plastic that is difficult to notice. Keep your orthodontic treatment on the down-low with clear aligners. These removable trays won't irritate your gums or cheeks like brace wires might. We custom-make each pair to fit your teeth closely so there are no unnecessary corners or shapes. 
How to Care For Clear Aligners? 
There are a few ways to take care of your clear aligners. For example, when cleaning, use lukewarm water. Always take them out before you eat, and rinse them when you remove them. Before placing your aligners back into your mouth, remember to brush and floss your teeth- you don't want to get any bacteria stuck against your teeth. Avoiding colored drinks with clear aligners will keep your aligners safe from stains. Wear aligners 20-22 hours daily, and place them in their proper case when not in use. 
These tips and tricks will clean your aligners, straighten your teeth more effectively, and protect your aligners from damage. 
Clear Aligners in Tomball, TX
With so many benefits, clear aligners continue to grow in popularity each year. At Northpointe Smile, we're happy to offer these life-changing treatments. Dr. Neelima Samineni and our team provide a patient-focused approach emphasizing care, effective treatment, and safety. Invest in your smile today with a pair of clear aligners. 
Schedule an appointment today to get started.