Are you struggling with discolored, chipped, or misaligned teeth? Do you want to restore your smile and boost your confidence? Dental veneers may be the solution you've been looking for. At Northpointe Smiles, we offer high-quality dental veneers in Tomball that can transform the appearance of your teeth and help you achieve a smile you will love.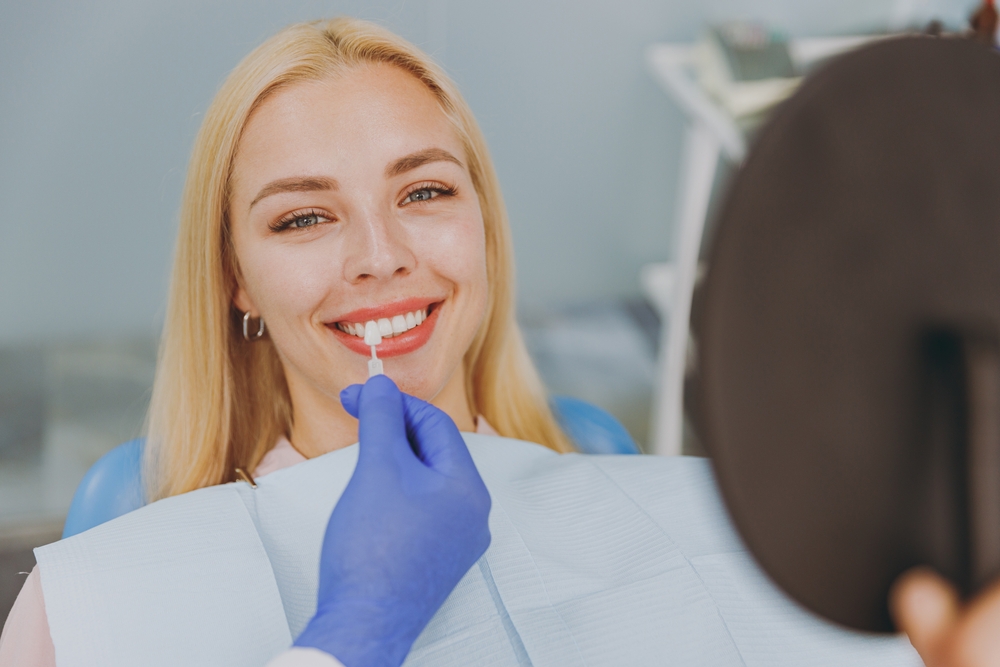 What Are Dental Veneers?
Northpointe Smiles specializes in dental veneers, a popular cosmetic dentistry procedure that can transform your smile. Dental veneers are thin, custom-made shells that cover the front surface of teeth to improve their appearance. They are made from either porcelain or composite resin and are available in various shades to match your natural teeth. Veneers are an excellent option for correcting a range of dental issues, including chipped or cracked teeth, gaps between teeth, and teeth that are stained or discolored. With dental veneers, you can achieve a beautiful, natural-looking smile that you'll be proud to show off!
Are Veneers Right For Me?
Dr. Neelima Samineni can carefully examine your teeth and gums to ensure you are suitable for veneers. Additionally, she will explain the procedure, answer your questions, and provide guidance on preparing for and caring for your veneers after the treatment. Don't hesitate to schedule your consultation with Dr. Samineni today!
The Many Benefits and Advantages of Dental Veneers
The following information can help you make an informed decision about whether dental veneers are right for you. 
Enhances Your Smile
One of the primary benefits of dental veneers is that they can significantly enhance the aesthetic appearance of your smile. Veneers are thin shells custom-made to fit over your natural teeth, adding an extra layer of protection while concealing any imperfections. They can mask discoloration or stains, close gaps between teeth, and improve the shape or size of teeth that may be misshapen or oddly sized.
Long-Lasting and Durable
Dental veneers are a long-term investment in your dental health. Their high-quality materials, such as porcelain, are durable and resistant to staining. With proper dental hygiene, veneers can last up to 15 years before needing to be replaced. Veneers also don't require any additional care or maintenance other than a regular dental checkup every six months.
Minimally Invasive
Veneers are a minimally invasive cosmetic dental procedure. The process involves removing a thin layer of enamel from the surface of your teeth to make room for the veneers. We design this process to be as comfortable as possible, and using a local anesthetic ensures you don't feel any pain during the procedure. Additionally, because the veneer is so thin, it requires no significant adjustments to your natural teeth.
Boosts Your Confidence
Undoubtedly, a beautiful smile can do wonders for your confidence and self-esteem. When you have dental veneers, you'll be able to smile confidently, knowing that your teeth look their best. You'll feel more comfortable in social situations, outgoing, and willing to engage with others.
Versatile Treatment Option
Dental veneers are a versatile treatment option that can help address various cosmetic dental issues. Whether you need a single or complete set, veneers can be customized to address your unique needs. In addition, because of their durable materials, veneers can withstand the everyday wear and tear of normal chewing and dental function.
Dental veneers are a popular and effective cosmetic dental solution that can transform your smile. At Northpointe Smiles, we're committed to providing high-quality dental care to our patients. 
If you're considering dental veneers, contact us today to schedule a consultation with one of our experienced dental professionals. We'll work with you to determine whether veneers are the right choice for your unique needs so you can achieve a beautiful and healthy smile. In addition to dental veneers, we are your one-stop dental shop for quality services, including general dentistry and restorative dentistry in Tomball, Texas.