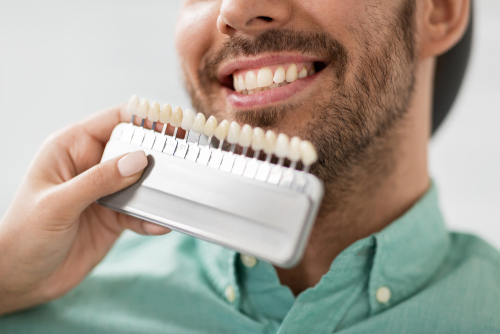 What rhymes with sheers and looks great in teeth? If you said veneers, you'd be correct! Porcelain veneers offer a fantastic way to whiten, straighten, or beautify anyone's smile. At Northpointe Smiles, we spare no expense on your experience. That's why we've invested in advanced dental technology, treatments, and therapies possible. So the next time you search for "porcelain veneers near me," let us know. 
Pros 
Instantaneous Results. Once we install porcelain veneers, you'll see an immediate transformation. You smile while being brighter, aligned, and super-smooth. While other dental restorations and cosmetics may take weeks or months to achieve full effect, porcelain veneers are immediately beneficial. While it usually takes two visits to install porcelain veneers, it's fast compared to other treatments. 
Stain Resistance.

They are like dental shields that protect your teeth from stains. Its immunity to blemishes will keep your teeth shining for years. Stain-causing compounds such as coffee, tea, fruit drinks, red wines, and other foods can't attach to its sleek, porcelain face. 

Extreme Versatility.

Porcelain veneers are a one-man army that seems to tackle all dental problems simultaneously! They can cover stubborn stains, hide cracks and chips, reshape a tooth, straighten a smile, and recolor a tooth. 

Minimally Invasive.

While technically both a pro and a con, they take much less preparation than other restoration procedures. We'll take off a thin layer of tooth enamel to bond it to the tooth. This process will increase its lifespan and make it look natural with your teeth. 

No Special Care is Required.

Dental veneers are surprisingly self-sufficient. Once we set them, you don't have to worry about special care, precautions, restrictions, or medications. Life will continue the same as before! 

Look Natural.

We design all our veneers to match your teeth exactly. They'll blend seamlessly into your smile and look no different from other teeth. Unless you tell someone otherwise, they'll never know the difference. 
Cons 
Permanent Effects.

When we remove a thin layer of enamel, this process is irreversible. As such, there's no way to replace or regenerate this layer. While the effects of treatment may be permanent, 

Potential Tooth Sensitivity.

Enamel protects our teeth from hot and cold temperatures. Removal of enamel can increase sensitivity to varying degrees.

 
Can't Treat Extremes.

While a broad, versatile treatment, veneers are powerless against extreme issues. For example, badly crooked teeth need braces, while large cracks may require crowns to fix.

Susceptible to Damage.

We build our veneers from advanced medical porcelain that is quite durable. However, our teeth go through a lot. We munch and crunch multiple times a day on a wide variety of foods and beverages. Porcelain veneers may chip or crack under pressure. However, you can help avoid this by not chewing on hard objects like pens, ice, or fingernails. 

Two Visits are Required.

While two appointments aren't a con, it's nice to know beforehand. For the first visit, we'll prepare the teeth and take impressions. We'll fit your teeth on the second visit with our porcelain veneers. 
Porcelain Veneers Near Me
Are you looking for porcelain veneers near you? Look no further! At North Pointe Smiles, we keep your smile on point. Our porcelain veneers offer a wide range of benefits that'll last years. Dr. Neelima Samineni and our team have been doing this for a long time, and installing veneers is still a special treat. Why? Because they are an effective all-around treatment that never fails to brighten smiles.
Are you ready for veneers? Schedule an appointment today to get started.